Informed by a Feasibility Study completed in 2012, the BHER model combines online and onsite (blended) teaching and learning to deliver university programs in Dadaab. Online courses are delivered through partner universities' eLearning platforms such as eClass, KUSOMA, etc. On-site sessions are run for first-year courses (students are scaffolded into online learning with the number of online courses increasing as they progress in their studies), practicum courses, examinations, remediation, and more. All course offerings in the BHER program are "stackable", allowing students to earn a certificate or diploma at each level of study, incrementally building towards earning a degree. This means that the same students can continue beyond the teacher training certificate and diplomas, applying their "portable" earned credit towards full degree university programs.
Academic programs of universities affiliated with BHER are offered to students organized into cohorts. Since 2013, 3 cohorts of students have enrolled into university programs through BHER.

(1) Cohort 1 – Enrolled in 2013
(2) Cohort 2 – Enrolled in 2014
(3) Cohort 3 – Enrolled in 2019
The first accredited program in the BHER model is a Certificate or Diploma in Education, in either the primary or secondary education stream. Graduates from these Certificate and Diploma programs may then apply to a Bachelor degree program offered by one or more of the BHER consortium universities, with their Education credits counted towards the requirements of the degree.
In 2018, through the support of the Faculty of Education at York University, BHER piloted the first in situ graduate program in Dadaab. The first two rounds of applications for the masters was limited to graduates of the YU undergraduate degree programs. In 2020, YU opened its admissions to graduates of KU and MU degrees. 


The following diagram depicts the BHER program structure: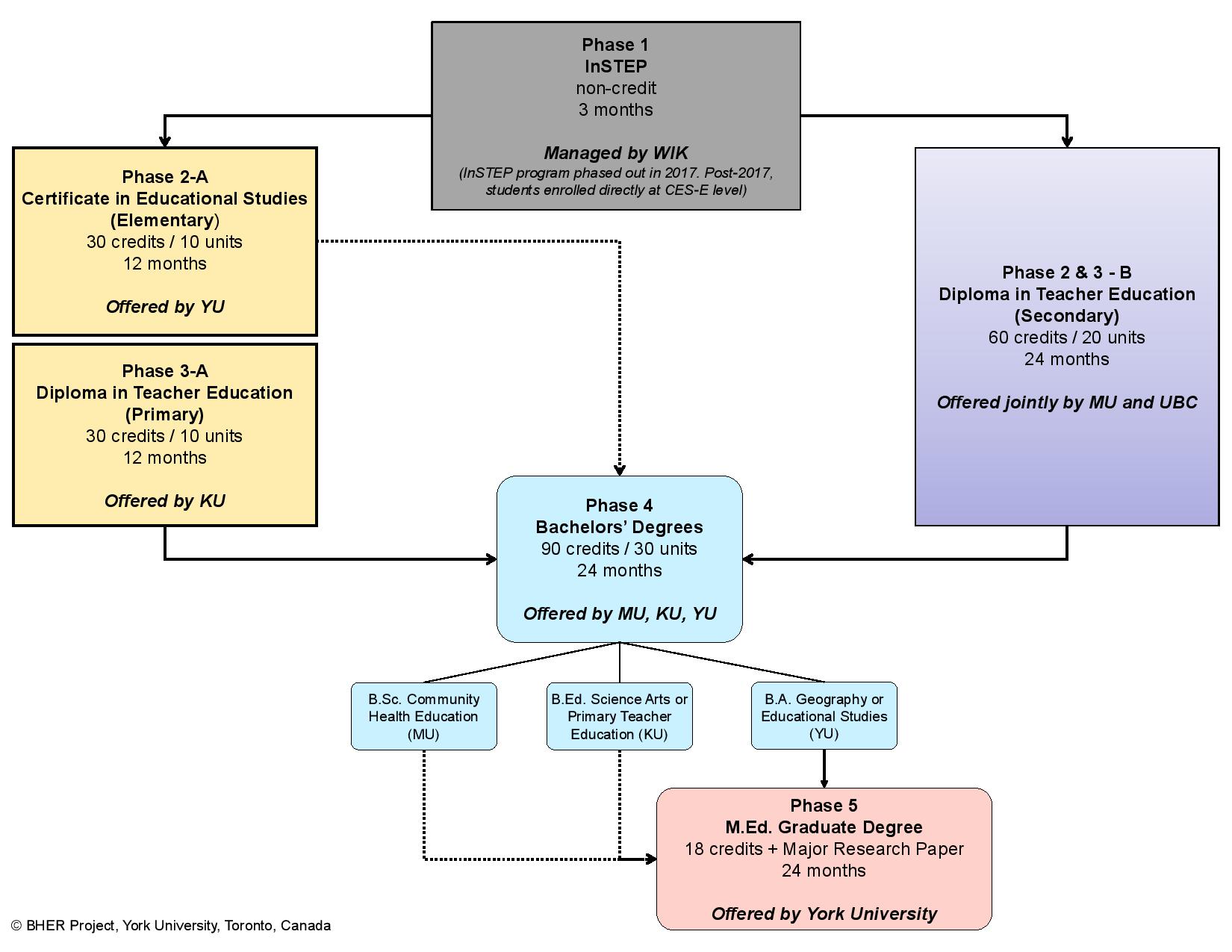 Note on Phase 1:
In 2013 and 2014, BHER students enrolled in a 3-month university preparation program called the Increased access and Skills for Tertiary Education Programs (InSTEP). Its purpose was to prepare prospective students for university education through courses in English Language for Academic Purposes, Information and Communication Technology (ICT) and Research Skills. Students who completed InSTEP applied for the Certificate or Diploma program. Since 2017, the BHER Project phased out the InSTEP program. Supporting BHER students develop their voice in academic language writing, fostering critical thinking and research skills would take intentional mentorship over the course of their studies that went beyond the 3-month span of InSTEP. The sustained support beyond InSTEP is particularly important as BHER students were beginning tertiary studies in their second, third, or even fourth language (i.e. English).
After 2017, students were introduced to their studies with writing and research workshops, but the project took a more long-term approach to onboarding students into tertiary learning that involved a year-long writing course, close mentorship with Teaching Assistants and integrating academic skills into scaffolded assignments in courses. Course Directors worked together with project staff to support students over the entirety of their studies.